In our brand new series of #TWAShares, we had the pleasure of chatting with 3 different cat owners, who decided to adopt their cats.
Read on to learn about their lives post-adoption, and some of their tips and tricks for those that are eager to adopt cats too!
Q: Tell us a little about your cats!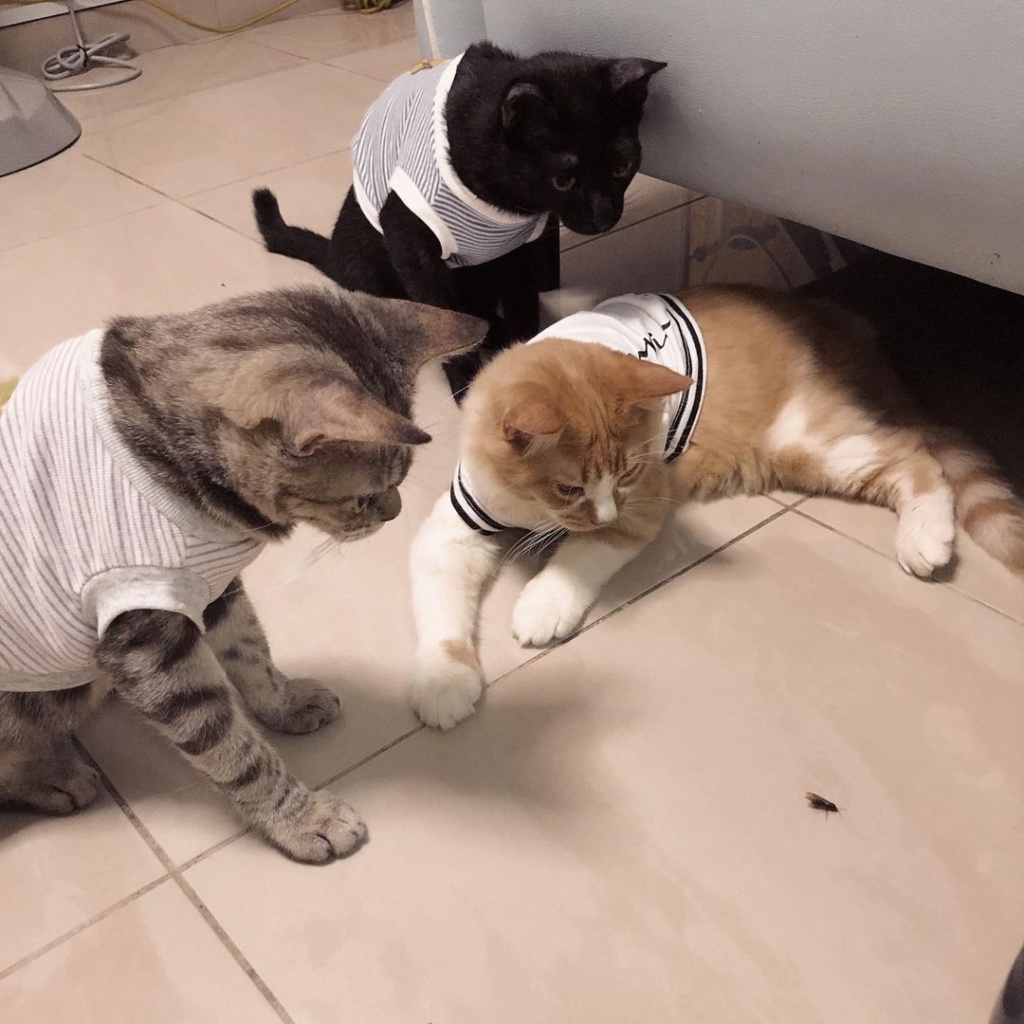 Zingertails: We have 3 adopted kitties Remo, Cozmo and Gizmo, all about a year old now! Cozmo and Gizmo are actually siblings that we adopted from SPCA and Remo was adopted from a rescuer.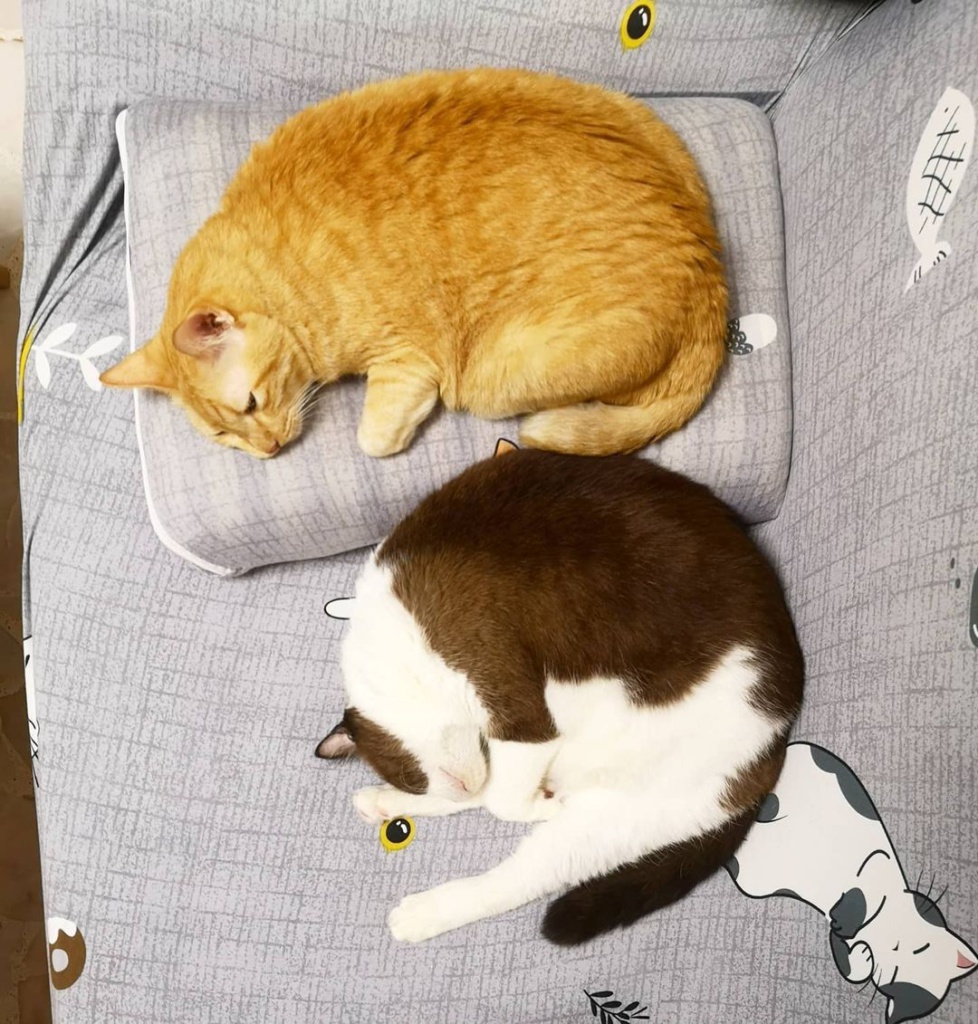 Emplifying: We have 2 chonky seniors, Gary and Newton. Gary was named after Spongebob's pet snail because he went 'mao' instead of 'meow'. He was found at Tampines void deck with his siblings while Netwon was picked up at Newton Circus on a rainy day.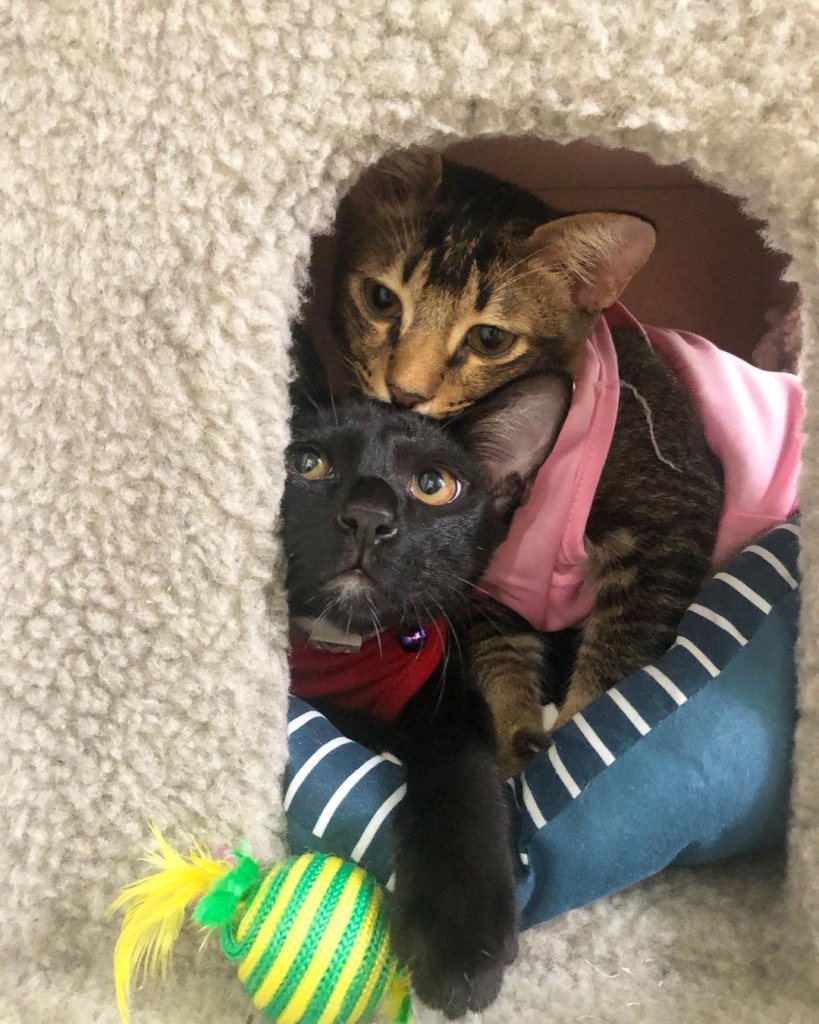 Diam0ndkitties: We have 2 adorable brothers, Nori Jisub and Truffle Gohan. They were found near a drain at the carpark at NUS by my brother in Jan 2020. We brought them home when they were about 2.5 months old when we brought them home. Nori is super athletic while Truffle loves jumping, sleeping and bird-watching.
Q: What was your first day home with your cats like?
Diam0ndkitties: The first week we brought them home, I couldn't sleep very well as I was worried about them being alone in the dark. So, we left a small light on until they got familiar with the surroundings.
Emplifying: Newton was only about 4 months old when we took him in. He was wet, scrawny, muddy and had some injuries to his hind legs' toes. We brought him home in a shopping bag because we didn't think we would be taking him in. We took care of him in secret, because our parents didn't want a pet at home. We kept him in an unused toilet for a night but his loud meows were heard by my parents! Eventually, he won my mom's heart because she felt that he's her lucky cat!
We found Gary at a void deck with his siblings, he was the chonkiest and most mischievous because we found him climbing a palm tree! Eventually, all his siblings were adopted and we brought Gary back home. I guess Gary was my mom's favourite as she commented in a dialect that "This cat is so sweet".
Zingertails: It was a bit chaotic because I met Remo at my clinic workplace! He was rescued and brought in with exposed flesh due to bacteria growth. He had to be hospitalized at a very young age [1 month] and I ended up taking him home to care for him. I too brought him home without my dad knowing, as he didn't like cats in general. When he saw Remo, he was very against the idea of nursing him.
The first night was chaotic as Remo was constantly having diarrhoea and due to his open wound, had to be cleaned up as soon as possible. I kept him in my dad's unused fish tank for the first night, and tried to syringe feed him water to avoid dehydration. As he was our first cat, the house wasn't 'cat-ready' and the next day, I dashed out to Pet Lover Centre in the morning to get all the kitten essentials.
Emplifying: My parents were like that at first too! But they grew to accept them.
Zingertails: But Remo is really smart! He knows how to smooth his way out into my parents heart and first began by working his way to my mom by gently meowing and being all manja with her. That's where my mother fell in love.
Q: What were your must-have products for the kittens?
Diam0ndkitties: A litter box and litter! I'm quite particular about home cleanliness so I was initially paranoid about litter box training and accidents. But luckily, the kittens took very naturally to the litter box which was a huge relief to us. But not to say there weren't a few accidents though! Afterwards, we were hastily looking at which kitten food to buy. There's just too much info out there that we have to sieve through, both for kittens and adult cats.
Emplifying: Definitely kitty pan, kitty sand and cat food! We had Daiso bowls as food and water bowls. Not forgetting cat mesh!
Diam0ndkitties: Yes! Daiso does have a lot of good stuff for pets, but they are not very commonly found at some outlets. We have tried the cat wipes but they were a little too thin.
Emplifying: We also got dish washing gloves for Newton and thought that bathing him with gloves would be easier (didn't know what we were thinking!) but Newton shredded the gloves so… no gloves after that!
Zingertails: For us, we prepared lots and lots of pee pads. At that time, we weren't prepared to adopt Remo so we used pee pads as well as a small little tray as a litter box! We also bought KMR milk, kitten mousse/kibbles and Nutripet vitamin supplements.
Q: Biggest challenge when trying to let your kitten get used to being domesticated?
Emplifying: It would be the late-night meowing, because we were so afraid that the neighbours will complain since cats are generally not allowed to be kept in HDBs.
Other than that, there would be occasional furniture/wire damage by kittens but glad to say that there wasn't any mass destruction! Unlike dogs, I feel like cat's may not be domesticated easily. Based on my experience, instead of trying to train them to NOT do a certain action, the only way we felt worked for us is to not encourage the behaviour. Instead, we keep things/furnitures away that could encourage the behaviour and exhaust the kitten's energy with playtime!
Zingertails: Agreed! We really had a hard time trying to exhaust the kittens.
Diam0ndkitties: Yes, the biggest challenge for us when they were younger was to not let them scratch furniture or bite into wires, which they usually will do at night or when no one is around. We provided lots of scratching posts, and also tried the cat anti-scratch spray which unfortunately did not work. Exhausting them was not easy, they were just way too active. Sometimes even I got tired!
Zingertails: When the kittens start to get bored, especially Remo when he was the 'single child', he would start developing behaviour such as pouncing on the humans or even biting. It took us a while to correct this kind of behaviour. We do bring Remo out for walks but it's not on a frequent basis. I have heard some cats ended up craving the 'outside world' a lot and will start to be destructive when kept indoors.
Emplifying: We bought a leash too, but they just flop and surrender on the floor, they did not even walk! Had to carry them all the way. I have also heard about cats not wanting to be kept in after being exposed to the 'outside world'.
Q: Give a piece of advice to hoomans looking to adopt cats!
Diam0ndkitties: Wow, that's going to have a long answer! But in short, be really sure that you can commit to ANY pets. Commitment to care for a pet is important. There will be good days and also bad days. For stray cats, it also depends how old they are when adopted, the older ones need more patience to adapt to the indoor life.
Emplifying: Just be patient & committed! And enjoy the process of finding out their silly characters. I really miss those kitten days! There may be both heart-aching and heart-melting moments through their course of life, but none of which I regret.
Zingertails: Yup I agree! It is not just a one two year commitment, but can last up till 20 year! You have to be financially ready and ave up funds for them, be it regular food and toys or even medical fees.
THE WOOF AGENCY would like to thank @diam0ndkitties, @emplifying and @zingertails for taking the time off to share with us their real-life experiences on adopting stray cats.
---
If you enjoyed this piece, drop a comment below and let us know what other types of pet groups you'd like to learn more about!
* This blog is designed to be a community where pet owners can learn and share. The views expressed in each post are the opinion of the author and not necessarily endorsed by Pawjourr. Always consult your veterinarian for professional advice.