She Isn't The One… Is She?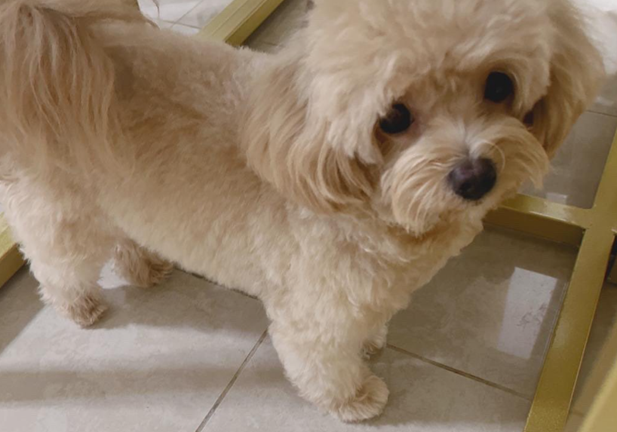 Under a tight budget, Shermin initially had no intention of buying a dog when she was browsing at the K-9 Salon. When Shermin saw darbear, she felt a connection, as it looked like darbear was in her own world, similar to herself. Although she thought darbear was cute, Shermin went on to look at other dogs.
But when Shermin asked the staff to show her another dog in the crowd of pets, the staff picked up darbear again! What's more interesting is that darbear's microchip number is the same as the last four digits of Shermin's bank account number. These left Shermin pondering over what had happened.
Eventually, Shermin was convinced and she paid the deposit. Comparing the market price for 2 kg Maltipoos, all her peers also pointed out that she was lucky enough to have gotten darbear at a lower price.
My Darling Bear
"darbear" is inspired by Shermin's parents calling each other "dar" — darling and how she thought that the first dog she saw was a walking baby bear. Hence, darbear or db, actually helped Shermin relieve and fulfill her childhood dream of owning a darling bear! 
Even more interestingly, darbear prefers humans over dogs, and this showed through her behavior. At home, darbear is "active and crazy," according to Shermin, but starkly different from when she is outdoors, where she is "anti-social" and doesn't pee, poo, eat, or drink much.
Shermin describes darbear as being very fierce-looking because she seldom sticks out her tongue. Playfully, Shermin also let us in on the fun fact that darbear "snatches her daddy away from me." The Maltipoo is very territorial over her food and dislikes it when people force her to do something for her own well-being.
Home is where the sweetest memories are made
After realizing that darbear gets stressed out and growls at other dogs when they invade her personal space, Shermin turned their weekly weekend mingling into playing dress-up at home.
The hoomum loves to get customized items because it reflects what darbear is like in her eyes — a one-and-only unique presence. "Every piece is like a token of memory," Shermin explains, fondly stating that darbear will come to her side whenever she is packing the wardrobe, and pawdeling new apparel!
The mother and daughter bond after their bath day, where Shermin will shower darbear with kisses while brushing and talking to her precious baby. Mischievous, darbear closes her eyes and pretends to sleep when her mother nags at her!
"I want her to have everything her way."
It is impossible to not worry as a guardian. As a carnivore, darbear seldom eats vegetables, fruits, or non-meat food. Naturally, the imbalance of nutrients becomes the top of her list of things to worry about.
Another item on her list are the common conditions associated with Maltipoos: luxating patella and hip dyslexia. From time to time, Shermin gets darbear to go for health checks during vet visits. Via an embark dog DNA test, she had found one copy of a risk variant associated with IVDD. Fortunately, darbear is still young, and there are no signs of an occurrence despite darbear's habit of jumping and standing whenever she is excited.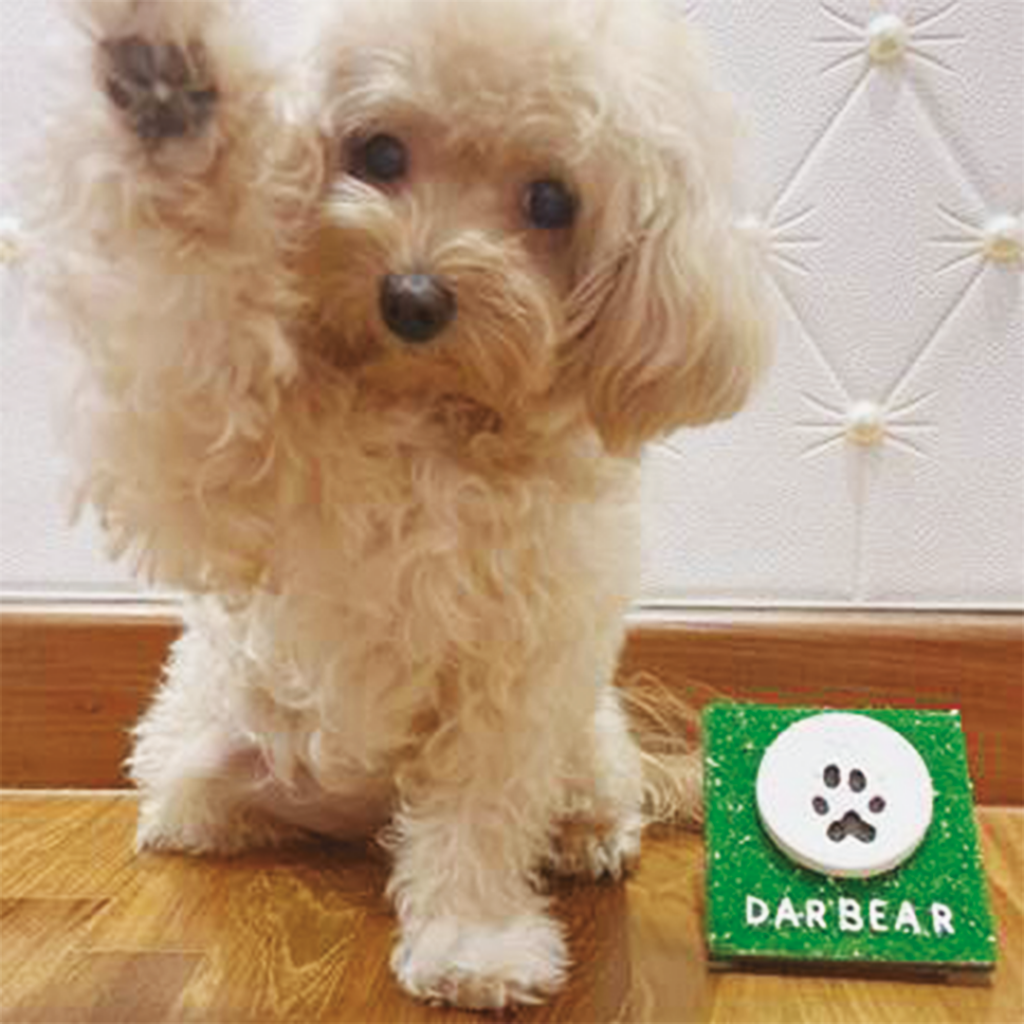 So, some of the things Shermin worries about are accidents, health issues, and, worst of all, death. After admitting that she overthinks sometimes, we asked her how she reassures herself. Shermin gave an inspiring answer: "[Negativity] is inevitable, but thoughts can be redirected", whereby she simply brushes off those negative thoughts.
Buying protection
Shermin came across AON Happy Tails as an agent selling general insurance. She explains that in addition to the convenience of getting darbear insured, AON is chosen because it can set her mind at ease with its wide coverage.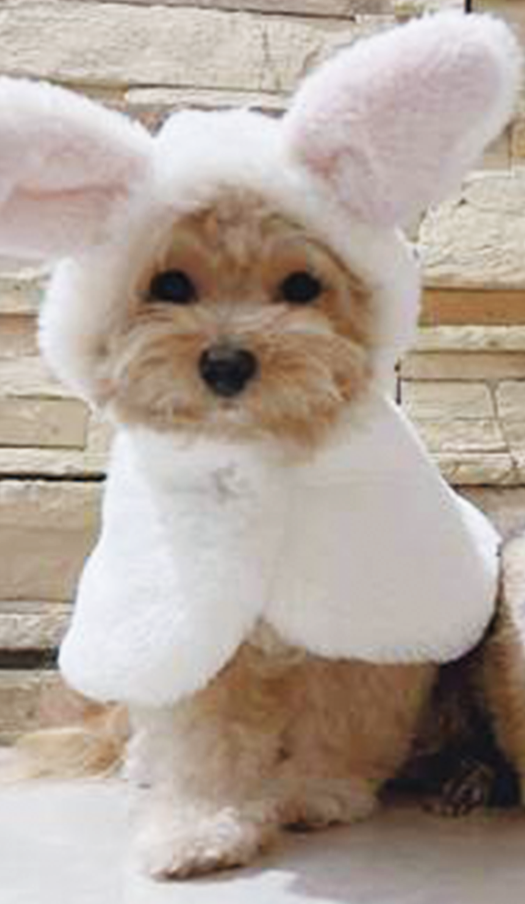 "Many people think that [buying insurance is] redundant and not needed. Especially when no claim is made," Shermin said, raising a common viewpoint that many have about insurance. Yet she argues that insurance saves one unnecessary costs; it is a form of protection.
When asked if pawrents should consider insuring their furbabies, Shermin gave a short yet succinct answer: "Don't buy when it's too late; we will end up incurring more costs than expected."
Do note that while Aon is known for its comprehensive coverages, pre-existing conditions are not covered and such exclusion is typical with health insurance. Click here for more information.
*Bonus Content*
If Darbear could speak hooman for 7 days, what would you say to her, or do with her?
We do Animal Communication quite frequently, once every month or every few months. I'm not a gentle mom, so there will probably be nagging and scolding during these sessions.
Actually, for my next session, I will be catching up with darbear who was just sterilized two weeks ago. I want to make sure that she understands why I put her through this pain. For these 7 days, I'll also be taking leave from work to spend time with her – just to fulfil all of my baby's requests 😄
#pawjourr #contentcreation #petcreators #petgigs #thewoofagency #freelancer #barbiegirlchallenge
* This blog is designed to be a community where pet owners can learn and share. The views expressed in each post are the opinion of the author and not necessarily endorsed by Pawjourr. Always consult your veterinarian for professional advice.