Now that you have an Instagram Creator Account, you will have noticed a new button below your posts: "Boost Post". What does it do? Can you really boost a post? We'll give you a quick tour of this new function for your pet influencing journey.
What does it mean to boost posts?
When you boost a post on Instagram, you're making it more visible to a targeted group of people on Instagram. By paying social media platforms, you can amplify your reach to your followers, a recommended audience, or a targeted audience. Your boosted post will then show up as a sponsored post on your audience's feed.
How to boost your posts
1. Click the "Promote" button at the bottom of your post.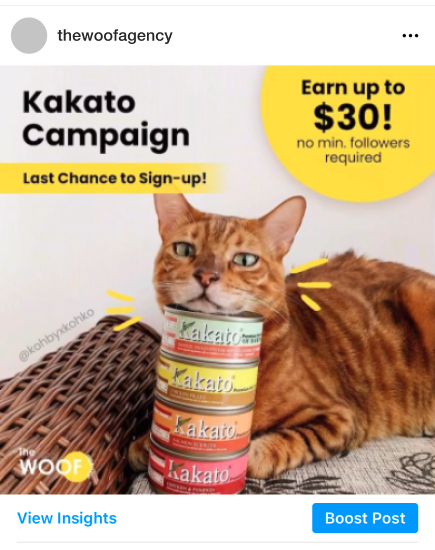 2. Pick a goal.
To boost your post, you need to first know what the boost does for it — that is your goal. Do you want more people to visit your profile? Do you want them to click a link to another website? Or do you want them to message you more? Whatever your goal is for the specific post you want to boost, make sure you choose the option that best aligns with it.
3. Choose an audience.
After choosing your goal, you can pick from three different targeting options: Special requirements, Automatic, and Create your own.
Special Requirements lets you target based on very niche categories.
Automatic tells Instagram to target people who have similar demographics and browsing trends as your followers.
Create Your Own lets you target specific people, based on their age, location and interests.
4. Set your budget and duration.
Based on the budget and duration you set, Instagram will estimate the expected reach and clicks that your post will attract after you set your post's budget and ad duration.
Expected reach refers to the estimated number of users who might see your post.
Budget refers to how much money you're willing to spend to reach your target audience.
Duration refers to how long your boost will last. It can be as short as one day, and as long as one month.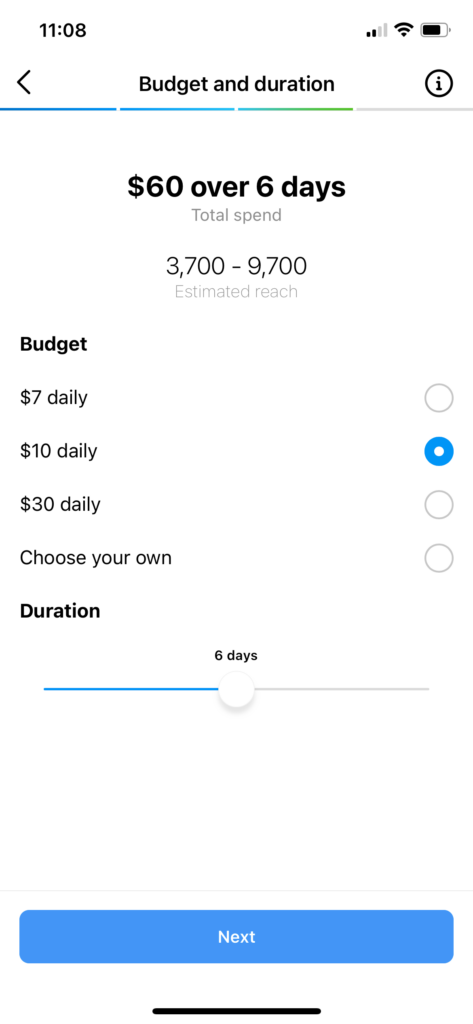 5. Review
Check that your settings are all in order before confirming your boost!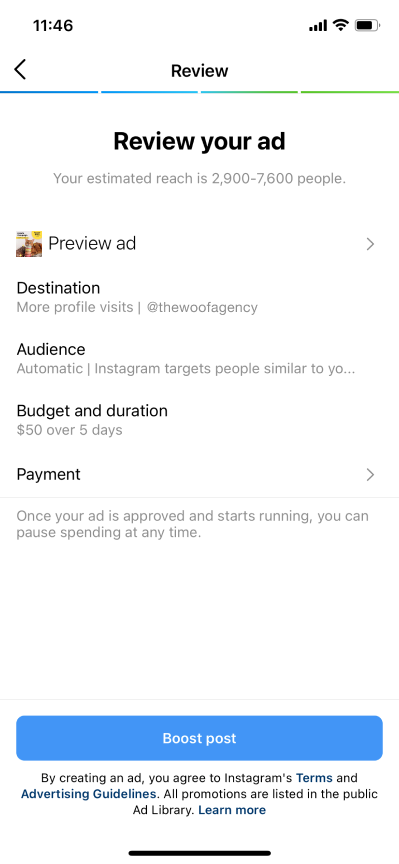 Now that you know how to boost your posts, you can reach out to more audiences!
To find out more about pet influencing, click here.
Ready to kickstart your pet-fluencing journey? Join our community of pet influencers and explore opportunities here.
Photo by Cristian Dina from Pexels
* This blog is designed to be a community where pet owners can learn and share. The views expressed in each post are the opinion of the author and not necessarily endorsed by Pawjourr. Always consult your veterinarian for professional advice.