Many dog owners are looking for alternative sources of protein. Fish is a great easy to digest protein, as it boasts incredible benefits such as improving your dog's eyesight, maintaining coat health and strengthening their joints and bones.
Fish4Dogs is fish-based dog food and dog treat brand. Founded by a community of dog owners who care deeply about their pet's health, the brand promises products that are:
Contains Omega 3
Grain-free recipe
Assist with Puppy development
Maintain Skin and Coat support
Strengthen joint health
Regulate weight control
We recently worked with pet influencers and invited them to review Fish4Dogs' selection. Each pet influencer received a customised selection of treats that catered to their dog's needs.
We reached out to @dear.dexter and his owner, Shermaine, to hear their overall thoughts and comments on our Fish4Dogs campaign. Through this, we heard more about the Brand's suitability for dogs, and how its individual variants catered to Dexter's needs.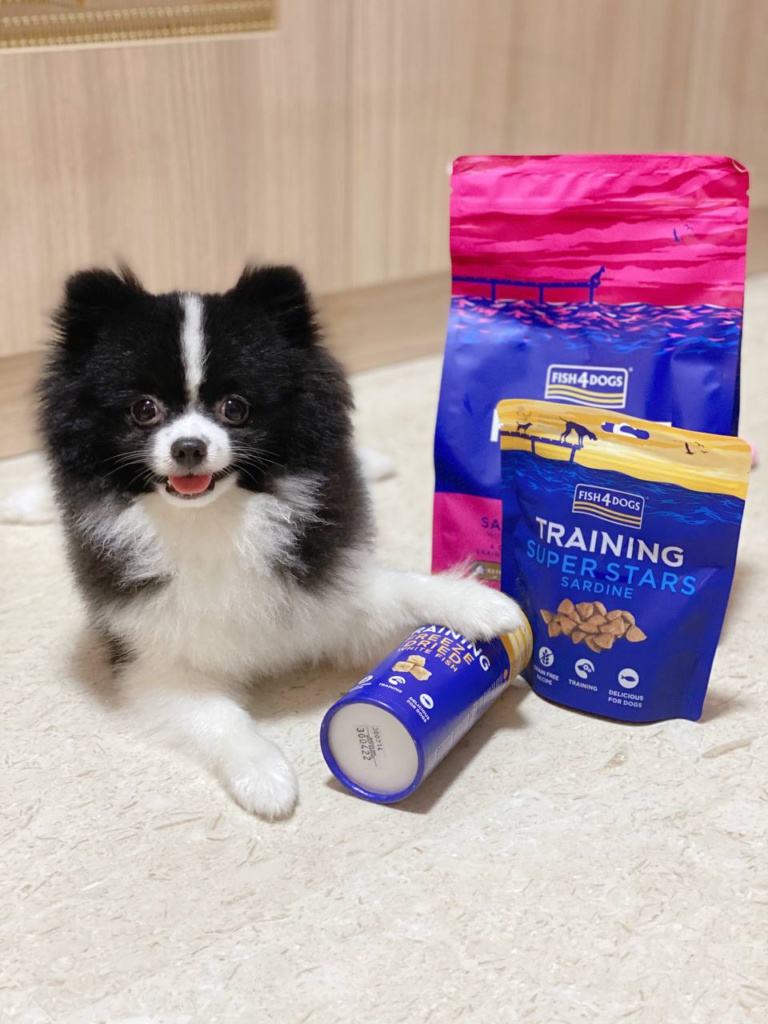 How did you find out about this campaign?
Shermaine: I found out about the campaign through TWA's Instagram – They were looking for toy breed applicants so I applied to find out more!
Through the course of our campaign, we provided Fish4Dogs products that catered to the specific needs of dog size breeds. Fish4Dogs food and treats come in a variety of sizes to best accommodate the dietary needs of your pup.
What products did you receive from the campaign?
Shermaine: Dexter and I received Finest Salmon Complete Toy Breed Kibbles, Training Super Stars Sardine, and Training Freeze Dried Whitefish.
What was your dog's favourite product and why?
Shermaine: Dexter appears to have enjoyed both the Training Superstars Sardine and Training Freeze-Dried Whitefish! The smell of the treats really got to him.
In order to assess the Brands' palatability for dogs, we also reached out to inquire about Dexter's mealtime experience with said treats.
With regards to the Salmon kibble, how did you find the size of the biscuits, and was it easy for your dog to eat it?
Shermaine: The size of the kibbles was just nice for him. They were similar to his usual kibbles hence it was not difficult to introduce the new kibbles to him.
With regards to the Training Super Stars Sardine and Training Freeze-Dried Whitefish, did your dog struggle to break off or chew said treats?
Shermaine: For Training Super Stars Sardine – it had a similar texture to kibble and was on the tougher side compared to the Training Freeze-Dried White Fish variant.
I fed him these treats as a reward for doing tricks. However, I soon realised that he was not chewing the treats properly due to his excitement.
As such, I made the decision to switch to the Freeze-dried White Fish which were a lot softer and easier to chew. It had more of a crispy texture. Dexter much prefers this variant. Each treat came in a bite-sized cube which was easy to feed. Very convenient for trick learning! The fish smell is quite strong however I do not really mind it.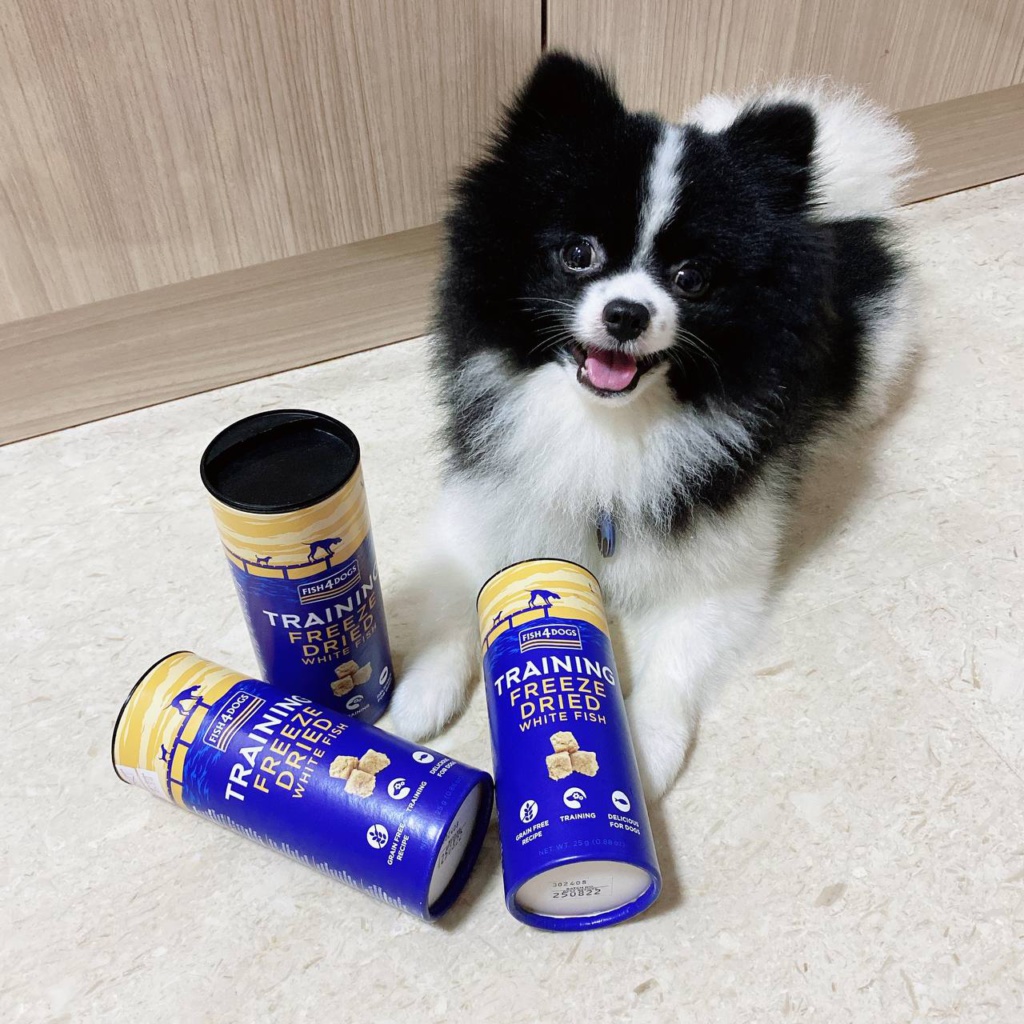 Any additional observations with regards to Fish4Dogs products?
Shermaine: As mentioned, the products from Fish4Dogs has quite a strong smell. I don't mind it – just got to wash my hands after feeding him the treats. Plus, I believe the smell helps me get dexter's attention since he is a very easily distracted pup.
A definite highlight for me is that the Freeze-Dried Whitefish is made out of 100% white fish!!! Very happy that it contains no other weird ingredients – I can feed Dexter with peace of mind.
Through our campaigns, we hope that pet owners are better able to assess the taste and preference of their pets by trying out different types of foods. Hence, we also inquired about Shermaine's decision to re-purchase the products after the campaign. This helps us gain a better understanding of our target audience- the dogs, and their interest in certain products.
Did you continue to purchase Fish4Dogs? What was the main reason why you decided to do so?
Shermaine: I'm really satisfied with the freeze-dried products so I continued to re-purchase those. In fact, I have 3 bottles with me on hand now.
The main few reasons I'm a convert is because:
Dexter enjoys it.
Small bite-size makes it easy to eat – I don't have to worry about Dexter not chewing well or choking
It comes in a convenient bottle.
It's affordable!! Plus, a bottle lasts me about a month or so because I don't feed it to him every day. For pet owners that choose to feed regularly, it might not be that worth it.
Would you recommend this product to other pet owners?
Shermaine: Yes! Dexter absolutely loves it and he is a really fussy boy. I would also recommend it to other small dog owners. Moreover, the ingredient list is very wholesome!
We would like to thank Shermaine and Dexter for their invaluable input. Our Fish4Dogs campaign has since ended. However, do continue to check out other pet owners who participated in this campaign.
Featured below @oolongmilkytea. Milky received a customised set for larger breeds.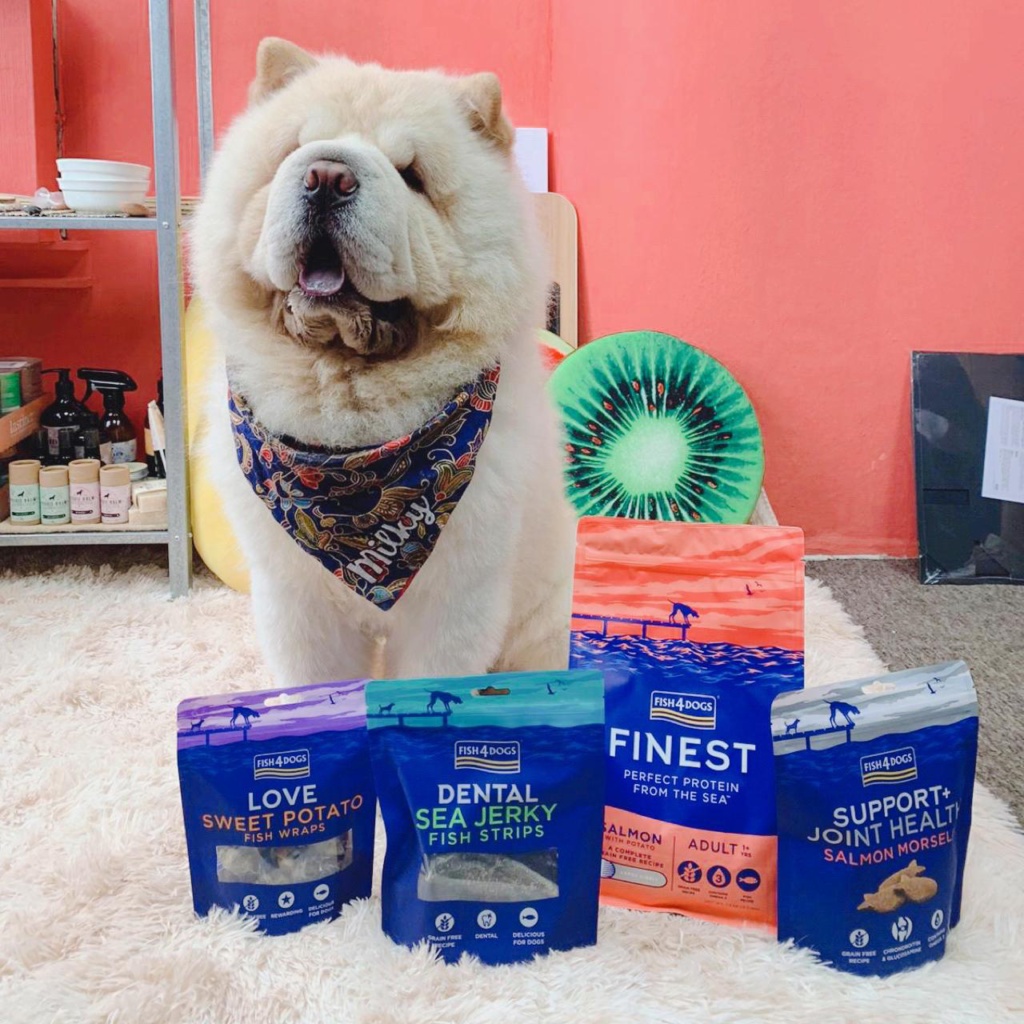 Stay tuned for more campaigns, or sign up to receive products as a Pet Influencer here.
* This blog is designed to be a community where pet owners can learn and share. The views expressed in each post are the opinion of the author and not necessarily endorsed by Pawjourr. Always consult your veterinarian for professional advice.