Happy Mid-Pawtumn Festival
Pets Club SG is committed to enriching the lives of pets across Southeast Asia (or Singapore) by bringing only the best pet products that we are sure your little ones will adore. As one of the leading pet product distributors in Asia, we have enduring partner relationships with over 650 pet specialty and grocery stores across Singapore. Over time, we have built a community of pet lovers to share our love for pets with. You can read our blog for more pet care tips, or simply connect with us on social media if you have any questions, feedback or comments! We are always here to listen.
Campaign Brief:
Attention all accomplished cooks. 📣 Pets Club Singapore is here to provide you materials required to make your very own doggy mooncakes so that our doggy fur friends can join in the festivities this mid-autumn season!
We are looking for 30 dog pawrents to join in this campaign where you will be tasked to deliver the following:
Cute, entertaining, or informational photos and/or videos of your mooncake making process, featuring Bronco Pate Wet Food
Make it fun! Cooking can be a great bonding activity so don't forget to showcase your interactions with your furkids. 🤪
Get creative and tweak the recipe to your furkid's liking!
Showcase your furkid digging into your delicious homemade mooncake with the remaining Bronco Pate products shown in the background/ frame
Try to ensure the background isn't too messy or cluttered
You will have a week's time to prepare for the post during the campaign period.
Mandatories
Tag @petsclubsg Include hashtags #PetsClubFam #BroncoPetFood #BroncoPate #HealthyDogFood
Campaign start date: Sep, 2021
Key Products to Promote
Choose only one from the following: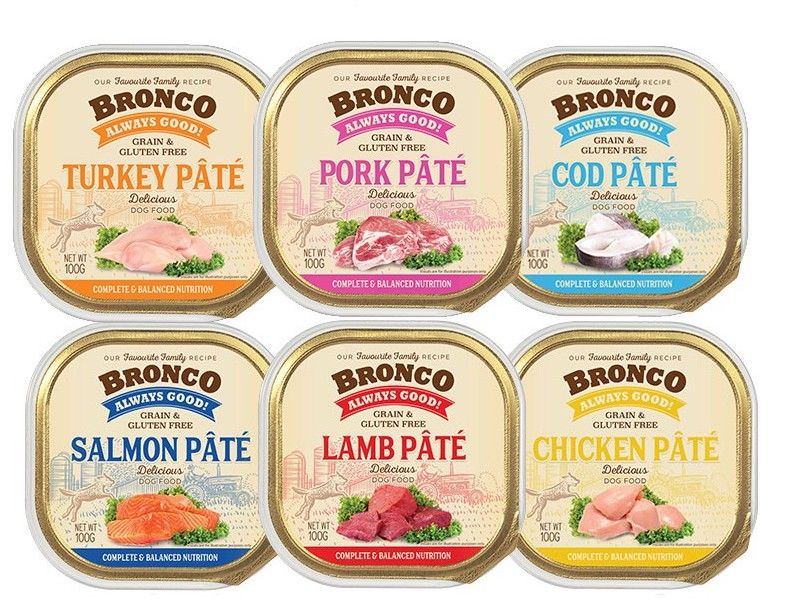 Bronco Pate Wet Food for Dogs
Pet Food & Supplements
$9 retail value.
Bronco Pate Tray Dog Food is a complete and balanced grain-free wet food suitable for adult dogs. Made of fine quality meats, each tray is slow-cooked into a smooth delectable pâté. - Comes in a 100g Tray - Adult Wet Food - Made with Natural Spring Water - Made with Free Range Meat - Made with Sustainable Ingredients - Grain & Gluten-Free - No Artificial Preservatives - No Artificial Colours - Complete & Balanced Nutrition - Limited Ingredient Recipe - Made in Austria
Campaign Deliverables
All influencers are expected to uphold the required deliverables. Final submissions are subjected to the client's approval.
1 x
Instagram Newsfeed Carousel Post
Creative Direction:
Showcase and share with us the entire dog-friendly, mooncake-making process with your furkid!
We're looking for fun and genuine interactions between you and your furkids, in addition to scrumptious scenes of them consuming your creations.
Use a combination of photos and videos for the best results!
You're encouraged to post about the campaign during mooncake festival (21 Sep)
Frequently Asked Questions
(1) How do you determine who gets selected for the campaign?
- Proven track record of producing high-quality photos with well-thought-out captions in a timely manner. - High engagement level (e.g 5% & above). - Other factors include the frequency of sponsored posts, # of vendors you work with, etc.
(2) What happens if my pet doesn't like the product?
- We understand that not all pets are going to love the same brand, just like humans. In the event that your pet rejects the food, please take a video and reach out to the brand. - Typically, brands will allow pet owners to withdraw from the campaign with no penalty. However, no reimbursement will be given.
(3) What do usage rights mean?
- Usage rights refer to giving brands the right to use your content for paid marketing — e.g. running social media ads with no credits. - To know if the campaign requires usage rights, please refer to the brief. If not, brands can only repost your social media content with proper credits. In the event that a brand uses your content inappropriately, please alert us at hello@pawjourr.com
(4) What happens if I MIA and/or back out from a campaign?
- Brands will be able to leave a review on the creator they have worked with on the backend. - In the event that a creator did not complete the project deliverables within the stipulated timeline, and/or quality content with no valid reasons, the brand will likely leave negative feedback and other brands will be able to see them. This will affect your chance to work on other campaigns and/or get selected. - Likewise, a brand will also leave positive feedback for creators whom they enjoyed working with.