Campaign Brief:
We are looking for influencers to take part in our campaign. We would like the influencers to showcase how our product can be a perfect heaven for your cat or dogs.
How you would like to showcase the product is up to you, we want you to showcase your creativity too.
Campaign start date: Sep, 2021
Key Products to Promote
Choose only one from the following: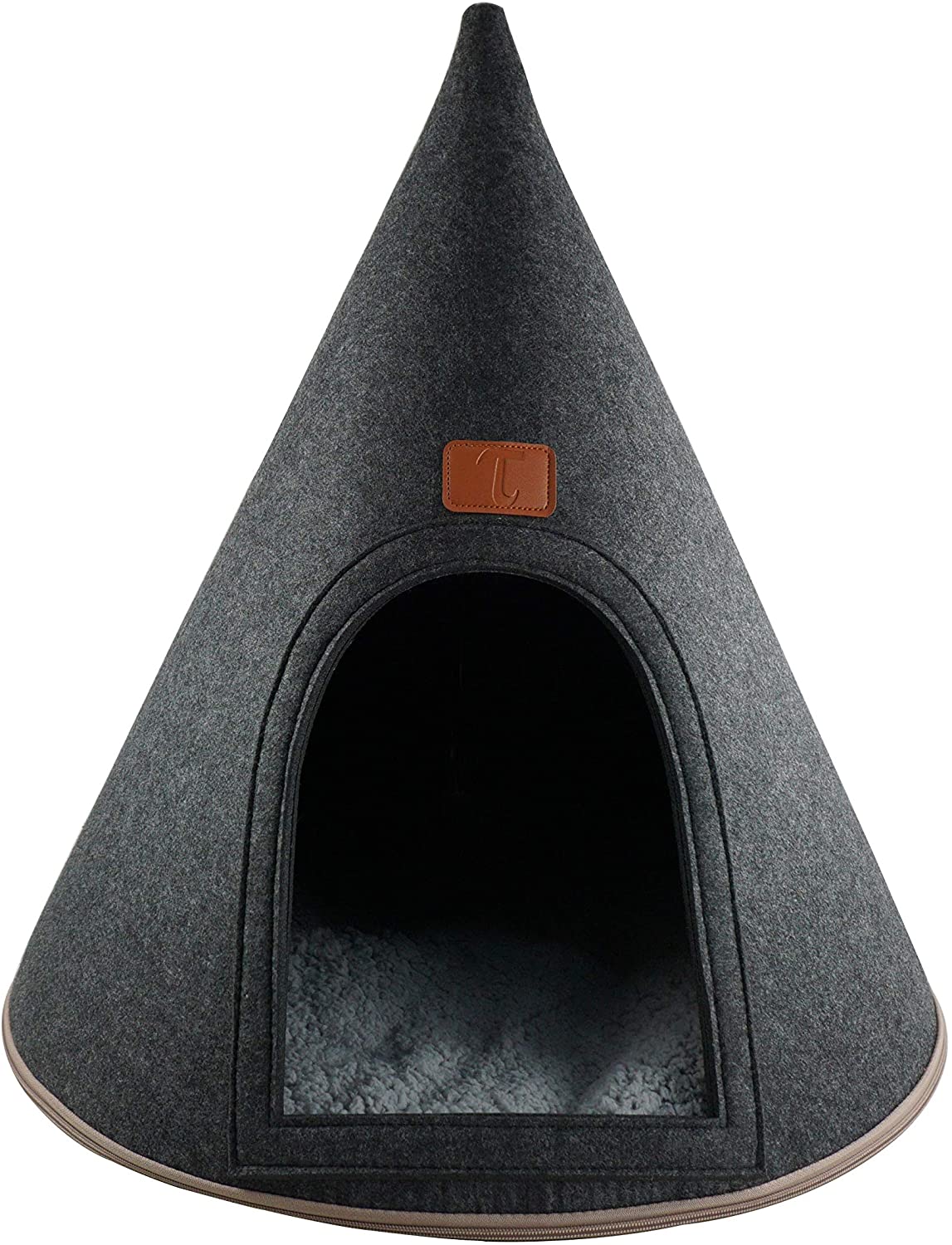 My Secret Cone Cave Easy Assembly Premium Felt Modern Cat Dog Small Animal Pet House Bed Condo
Others
$70 retail value.
🐶😻 ⛺️ This lightweight felt fabric modern pet home is a wonderful and cozy hideaway for your loved little ones. Shaped in a cone with an oval or window shaped opening, it includes an extra comfortable and warm cushion that is removable and machine washable. 🐶😻⛺️ Zipper construction enables easy assembly and access throughout for cleaning including the interior. This home can be rolled up and placed into a convenient bag allowing you to carry a familiar spot for your little ones when traveling. An easy to carry Oxford fabric case cover is also included. 🐶😻⛺️ This pet house is made with high quality and eco-friendly felt material. The warm and soft cushion is covered with Berber fleece (head side)/Coral fleece (tail side) and filled with 100% pure cotton which bring extra support and softness. Both parts are machine washable. 🐶😻⛺️ Its simple and sophisticated design blends easily with your home decor. Various sizes are suitable for both cats and small or medium dogs. 🐶😻⛺️ There are four different sizes to choose from: XS, S, M and L based on the size of your little ones. Cats and very small dogs (approx. 5 pounds) comfortably fit XS, S and M caves, while slightly larger dogs (approx. 10 pounds ) will need L caves. Dogs that are larger than 15-20 pound may NOT fit. Dimensions: XS - Height: 21" Diameter: 19" | S - Height: 23" Diameter: 21" | M - Height: 24" Diameter: 22.5" | L - Height: 27" Diameter: 26"
Campaign Deliverables
All influencers are expected to uphold the required deliverables. Final submissions are subjected to the client's approval.
1 x
Instagram Newsfeed Static Image Post
Creative Direction:
Entirely up to you, be creative!
Frequently Asked Questions
(1) How do you determine who gets selected for the campaign?
- Proven track record of producing high-quality photos with well-thought-out captions in a timely manner. - High engagement level (e.g 5% & above). - Other factors include the frequency of sponsored posts, # of vendors you work with, etc.
(2) What happens if my pet doesn't like the product?
- We understand that not all pets are going to love the same brand, just like humans. In the event that your pet rejects the food, please take a video and reach out to the brand. - Typically, brands will allow pet owners to withdraw from the campaign with no penalty. However, no reimbursement will be given.
(3) What do usage rights mean?
- Usage rights refer to giving brands the right to use your content for paid marketing — e.g. running social media ads with no credits. - To know if the campaign requires usage rights, please refer to the brief. If not, brands can only repost your social media content with proper credits. In the event that a brand uses your content inappropriately, please alert us at hello@pawjourr.com
(4) What happens if I MIA and/or back out from a campaign?
- Brands will be able to leave a review on the creator they have worked with on the backend. - In the event that a creator did not complete the project deliverables within the stipulated timeline, and/or quality content with no valid reasons, the brand will likely leave negative feedback and other brands will be able to see them. This will affect your chance to work on other campaigns and/or get selected. - Likewise, a brand will also leave positive feedback for creators whom they enjoyed working with.