Singapore Specials are a breed of their own — pointed ears or floppy ears; shorthair or fluffy, big or small, black, white, brindle or brown… these dogs look a little bit like every dog. Shef, proud pawrent of Singapore Special Cleo, (@classy.cleopura on IG), proves that these lovely strays are worth every bit of effort put into training them, and making them pawfect urban companions.
Cleo is in Shef's words, "the chillest and goodest dog ever (no bias!)." Cleo is extremely treat-and-food motivated and often 'smiles' for treats, a trait that Shef makes full use of to take more photos of her doggo.
Cleo shares her pawrent's social energy and loves hosting friends, both pawpal and pawrent. "It lets us both be lazy and sociable at the same time. Cleo really is my spirit animal!"
Story of Cleo and Shef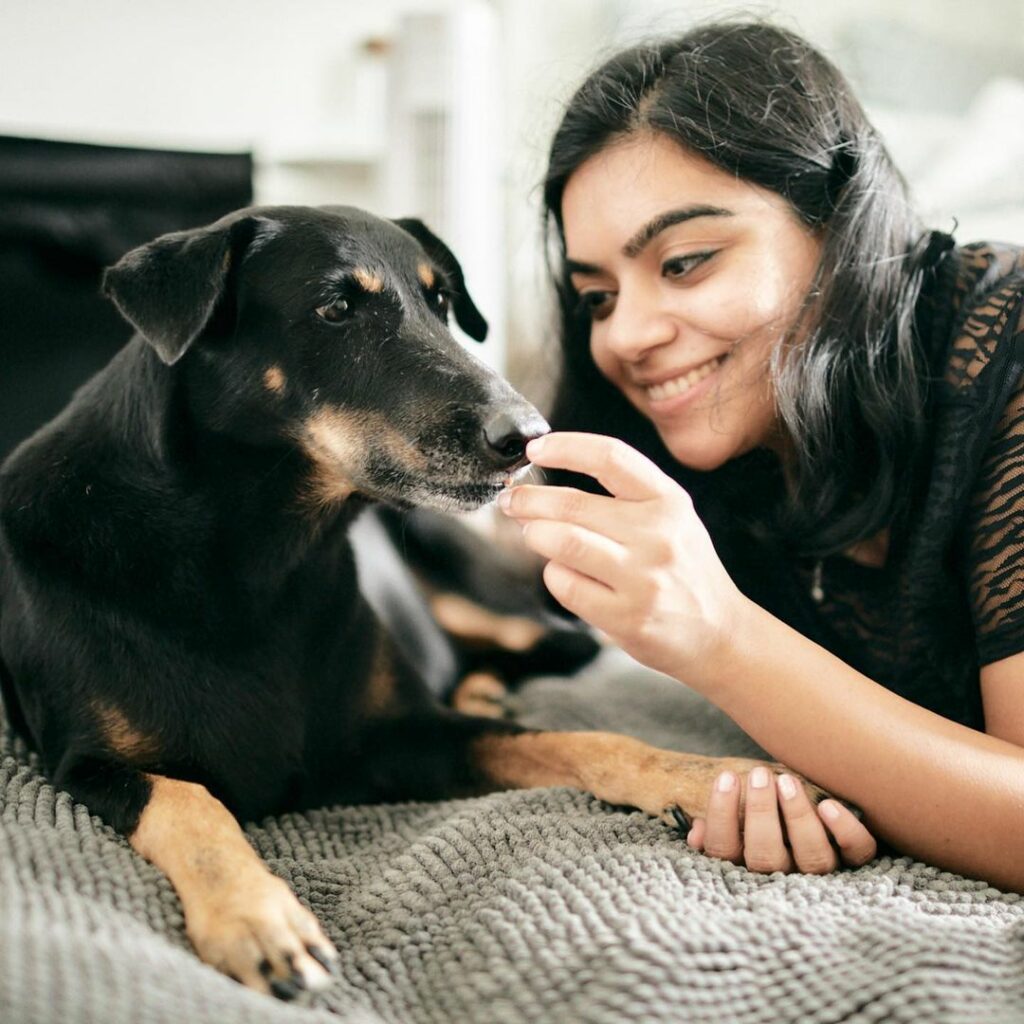 Before being a part of Shef's family, Cleo spent her early years living as a stray in a cemetery. She was rescued by Action for Singapore Dogs (ASD) when she was around six years old. Due to her age and size — being middle-aged and not of the HDB-approved size — Cleo spent another 13 months in the shelter, without being adopted.
"When I was going through the adoption process, my adoption counsellor at ASD told me that Cleo is one of the easiest dogs they've had at the shelter." I was given lots of handholding through the initial homestay, and even after I finalized her adoption, they were still very willing to provide guidance and support." Thankfully, Shef and Cleo are a match made in heaven.
"She was initially a little cautious when she came to me (understandably so), but now she's happy just hanging around the house with me; napping, interrupting my work calls for the occasional head rub and reminding me when I'm five minutes late to feed her."
"She loves her long slow walks but is extremely scared of cyclists and has thunder anxiety, so storms are traumatic for both of us," says Shef.
In their free time, Cleo would explore the neighbourhood HDBs and greet the community cats.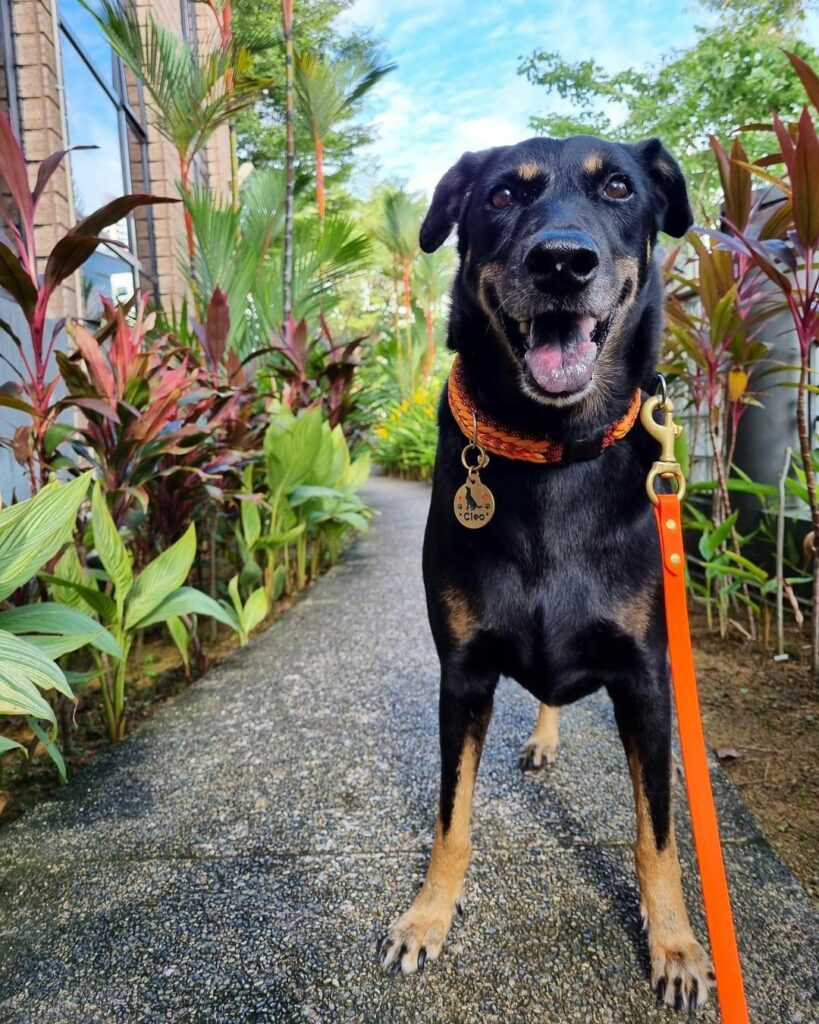 Getting an older dog
Being at the right place, at the right time
Having grown up with a German Shepherd, Shef always knew she'd eventually welcome a furry friend into her life… "I moved overseas for work in 2015 and moved back to Singapore in 2020, straight into the pandemic." Shef recounted. "I used to travel a lot Pre-Covid so getting a dog was a consideration that was put on hold. Once lockdown began and I settled in Singapore, it felt like an opportune moment to adopt a dog."
Lifestyle changes
While Shef enjoyed travelling and scuba diving, she is laidback. So when the time came for her to decide on the kind of pawpal she wanted in her life, her mind had already formed a clear image.
"I was clear I didn't want a puppy as my first pet — I'm not emotionally ready for a 12-15 year commitment at this stage of my life, nor do I really want to deal with teething, toilet training, etc. I was keen on dogs in the 4-7 year range, preferably of the low-energy variety; given my not-so-active lifestyle," reveals Shef, regarding her thought process and criteria, while adopting Cleo.
Many new pawrents underestimate the difficulty in raising young cats or dogs and tend to struggle with managing their diet, health, and training. Experienced pet owners advise all new/to-be owners to do as much reading as possible on what works best for them, their pawpals, so that they can adapt and integrate the new furry companion into their lifestyle as seamlessly as possible
Adopt, don't shop
As a first-time dog owner, Shef was not confident in her ability to identify an ethical breeder. "I wasn't keen on buying a dog from a pet shop, and I was more inclined to adopt from a shelter since my grandma used to volunteer at a children's orphanage and I've heard so many fulfilling tales of adoption from her," says Shef.
A pedigree pup in Singapore can cost around SGD$10,000 depending on breed and breeder. "If I had to spend that much money, I'd rather spend it on spoiling my dog silly," exclaims Shef.
Concerns over genetics
"I do worry about Cleo's long term health," says Shef. "Given her history, I have no idea about any genetic predispositions or any other health issues I should be mindful of." As Singapore Specials are the product of generations of strays cross-breeding, they are less susceptible to diseases. However, the ambiguity over their ancestry leaves room for worry over congenital and hereditary conditions.
Insure to ensure
Cleo was taken for a full check-up and blood test upon adoption. "Given Cleo's age and the lack of medical history, I wanted to get insurance for her, in case it was ever needed (and I really hope I never need to claim against it).
Most of Singapore's pet insurance caters to puppies rather than middle-aged dogs. Additionally, some have specific age limitations, rendering their coverage ineffective once your pawpal passes a certain age. This might pose a problem for Cleo, whose age is estimated based on veterinary assessments.
"Happy Tails was frankly one of two options Cleo was eligible for, and this is the only one that covers her for her entire lifetime. The coverage offered is also reasonable and comprehensive, for the amount I needed to pay." [Shef.]
Aon Happy Tails offers an affordable premium as low as $24 a month for coverage that includes surgical treatment arising from injuries, sicknesses, specified genetic conditions and much more.
Shef strongly believes pet owners should insure their pets. " I hope you never need to claim against it, but in my experience, it is Murphy's law. The one and only time I didn't take travel insurance was the one time I really needed it!"
*Bonus Content*
Say Cleo could speak hooman for 7 days. What would you say to her / do with her for that one week?
"I had an AC (animal communicator) speak with Cleo recently to try to understand her better. If she could speak hooman though, I would pretty much tell her what I already do every day – how much I love her and what a good girl she is, and how glad I am that she waited to be adopted by me!"
"I don't think much would change for us from our current lifestyle — we would still hang out, maybe explore some new neighbourhoods in Singapore. Maybe I would take her back to the cemetery she grew up in to explore (if she really wanted to). I would love to know more about her past life from her. I have some old photos and anecdotal stories from her feeders and rescuers which are priceless, but it would be amazing to hear her version of her life too."
"I'd love to also talk to her more about her health, any aches and pains she might have, and explain to her why she needs to diet (her and me both!)."
To learn more about Shef and Cleo's adoption story, visit her post here on Instagram!
* This blog is designed to be a community where pet owners can learn and share. The views expressed in each post are the opinion of the author and not necessarily endorsed by Pawjourr. Always consult your veterinarian for professional advice.