This article was written in collaboration with @lucky.thechion.
Hello! I am Lucky's paw-rent, a chihuahua x papillion pup.
Dealing with Travel blues
When the pandemic first broke out in Singapore, my entire family was basically stranded, unable to travel back to our home country, South Korea for vacation. We knew for a fact that it was overly risky and that the situation in Korea was surely more serious than in Singapore. Everyone was in a frenzy really, and so was my family, we did not leave the home for over 5 cases!
Now that we look back, perhaps it was ridiculous but we knew it was serious and believed that we were doing the right thing.
Regardless, losing the ability to travel hit our family quite hard, and we were dying to find a way to travel again.
As there are students in our family, them not being able to study at school bored everyone out, and we were all being lazy at home. Our family members are generally active people and enjoy going to gyms and swimming pools. Restaurants were a must for us as well. Since they were all closed at that point, we felt like we had nothing to do.
Exploring with Lucky
We started Lucky's Instagram account during the pandemic as we believed it offered a great way to connect with other pet influencers in Singapore who were experiencing similar events to us. That's also how we discovered Pawjourr, which we are very grateful to have found. Through these platforms, we were able to connect with people and learned ways in which we could be more productive throughout the pandemic.
As such, we were encouraged to visit the Botanical Gardens of Singapore, which inspired us to exercise more frequently. It was nice to know that such places existed. Beach walks were also so peaceful and enjoyable to be. We thank Lucky for helping us discover that.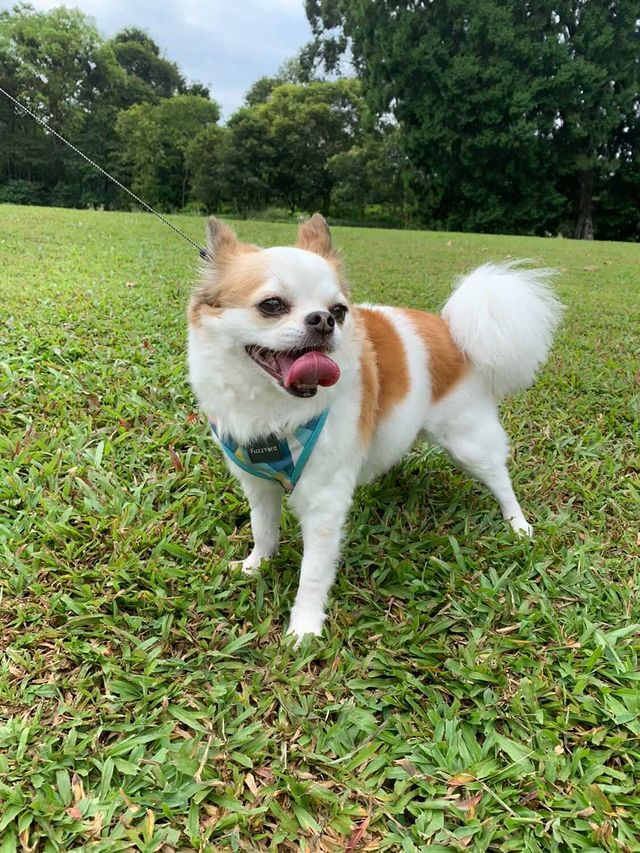 Soon enough, we started to visit places in Singapore such as the East Coast Park, Botanical Garden, Marina Bay and Barrage. We also took walks around Orchard Road more often, only to realise that we had clearly been missing out on all the real fun of Singapore!
Lucky being with us was definitely crucial to that fun. Our family would rather be at places with action and excitement which a stroll to the park may not suffice. But by having Lucky with us, we had something to pay attention to, take pictures for, and to feed if they got hungry on the way, causing outbursts of laughter among us.
Importance of staying mobile
Staying mobile and active really helps to provide a sense of hope.
Over the course of the past few years, which has flown by quite fast as we write this, we had gotten angry at what was needed of us to suppress the pandemic numerous times, and Lucky's presence helps us deal with it.
We need travel! But Lucky can't go with us anyways. Restaurants need to re-open! Lucky isn't allowed in many anyways. The students must go to school and the parents must go to work! At least we get to spend more time with Lucky.
Rather, with Lucky, we were able to reinvigorate a newfound appreciation for the places in Singapore. Moving and exploring such places allowed us to taste a glimpse of travel. Furthermore, Lucky's fun and joyous presence helped to further plant the seeds of hope and appreciation in all of us.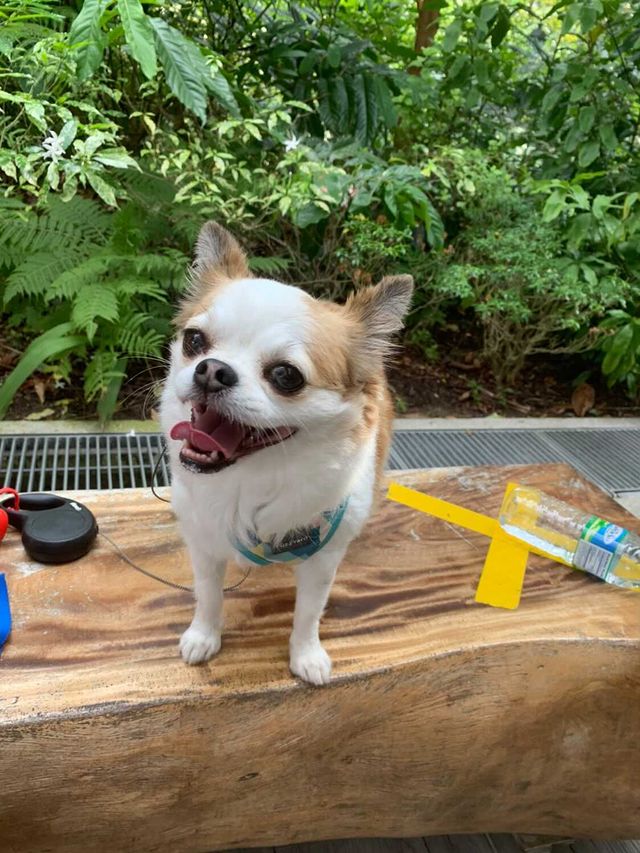 If you'd like to take your pet out on a walk around Singapore, I'd recommend doing these:
First, the obvious– keep your pet on a leash that fits them well so that they won't impose a threat to others.
Keep them close to you just in case. Even if they're usually calm and loving, they have the potential to attack a person if they feel the need to.
Pick up their waste after them, we need to appreciate and help the work of the cleaners.
Make sure they have enough water and food to prevent dehydration and hunger. And
Lastly, just have fun, and make the most of your time with your pets, and don't complain, because they're happy to be there with you than alone while you work.
Through Lucky, my family and I have developed something common to laugh about, to bicker about, to talk about. He has grown into the centre of all our conversations and has kept our voice up in the house throughout the months.
We are forever grateful that he could bring us tighter together like this.
I wouldn't trade it for the world.
* This blog is designed to be a community where pet owners can learn and share. The views expressed in each post are the opinion of the author and not necessarily endorsed by Pawjourr. Always consult your veterinarian for professional advice.