I have a puppy who is about 20 weeks now. Overall, Donut (my pup) has lost about 8 teeth, and currently, she is still busy biting everything that's insight. We've bought her KONGs which I did a review of here. We've also heard good things about Nylabones so we gave some of those toys a try as well.
Find my landshark's review of Nylabones below:
Nylabone Flexible Chew:
We fondly call this Donut's blue bone. It is one of her more durable toys. This toy has lasted us about 18 weeks now and it is still going strong. The knobs are all intact though she seems to have lost interest, we spice things up by adding some treats in between the knobs in order for her to love it again. I love the durability and it's semi-soft meaning it's gentle on puppy's gums.
Rating 10/10
Nylabone Pro Action (Bacon Flavor):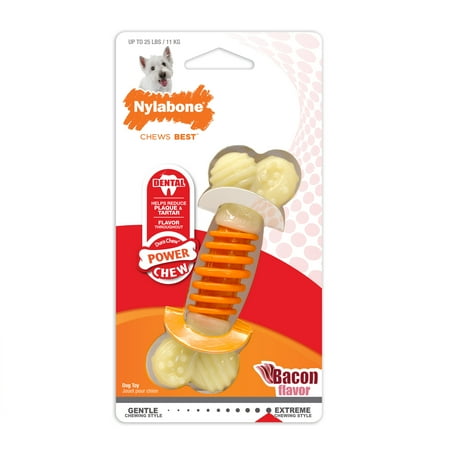 Similar to the blue bone above, my pup donut loves this bacon bone. It seems to be good for cleaning her teeth thanks to the rough ridges. However, the only comment I have for the product would be that it may be too hard. The bone is solid and I do worry sometimes that it may break my puppy's teeth. This bone is made for extreme chewers but even extreme chewers can break their teeth.
Rating 8/10
Nylabone Power Chew Textured:
I was perfectly happy with the durability of the first two bones so this purchase left me sorely disappointed. My then 1.3KG puppy was able to destroy and bite off the plastic in a matter of minutes. We no longer let her use it because we fear she'll ingest the plastic. I regret buying this and it's really a wasted purchase that really only lasted us an hour.
Rating: 1/10
Nylabone Antler Alternative:
I've read mixed reviews about letting dogs eat deer antlers so I was glad I came across Nylabone's antler alternative. I was pleased with this purchase, like the blue bone, it material was not too hard but was still durable. It's one of my puppy's favorite toys and has constantly used it during her teething phase. After a few weeks of having it, it now shows a bit of wear and tear but that's okay, I'll be purchasing another one soon!
Rating: 9/10
Nylabone Pacifier:
This toy was also made of durable and gentle material for puppies but I would only give it a 50% success rate. My puppy enjoys the blue pacifier while she barely touches the pink one. I think the pink pacifier is too big for her mouth so I am observing to see if she learns to like it the larger she gets.
Rating: 5/10
Nylabone Puppy Teething Rings: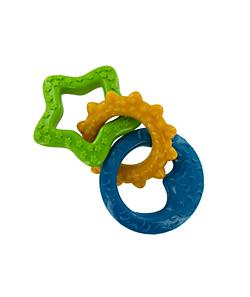 This by far is her favorite toy. Every time we place it on her pen or on the floor she is just ready to play with it. After about 2 weeks of playing with it daily, the texture of the toy turned a bit rough but she still thoroughly enjoys it. We had to get another set because she just wouldn't stop playing with it even if it was worn down. The teething rings have certainly saved our hands from her teeth.
Rating 10/10
Follow my pup Donut for more of her teething adventures!
* This blog is designed to be a community where pet owners can learn and share. The views expressed in each post are the opinion of the author and not necessarily endorsed by Pawjourr. Always consult your veterinarian for professional advice.